Tay Tay has been my idol for a while now. I think she is one of the most talented singers/ song writers I know of. Her music has inspired me in so many ways. TBH, I never understood what it meant when people said music inspired them until I heard her!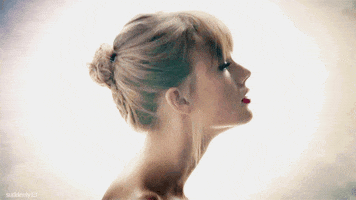 (http://giphy.com/search/music-style)
On 1989, I also understood that not only does she write her own music, she is also one of the composers. It blew my mind knowing how multifaceted her talents are.
(http://wallpapers.brothersoft.com/s/taylor-swift-1440x900/)
I will be honest. The first song I heard of hers was Lovestory. I hadn't heard of her before that. I loved the song! I was in an age where I appreciated songs like that (since it has so many memories attached to it, I still love the song even though I think it's a little immature!). Then I saw the idiot who stopped her midway during her awards speech and felt for her . Because she deserved the award completely. And there by began my reverence for her! The way she handled the whole shebang at a young age really was admirable.
(http://www.elle.com/culture/celebrities/news/a34369/kanye-west-twitter-rant-grammys-taylor-swift/)
RED was the album that was like a breath of fresh air! I like every song on the album (except, We are never getting back together, because, ahem, it is a little immature again?!). I still have the entire album on my playlist. After Red, there was no stopping her! 1989 was a hell-of-an epic album! The tracks that seem self deprecating on the surface but have clever sarcasm hidden everywhere were top notch. Her transition from country to pop is what classics are made of.
(https://en.wikipedia.org/wiki/Red_(Taylor_Swift_song)
I have been a fan not only of her talents but also of how she has been able to steer her life so well. Taking on the haters, donating money to Ke$sha, giving well thought of life advice to her fans, patching things with Nicki Minaj, displaying girl power with her squad, dealing with her ex's, making legends feel overwhelmed to be present at her concerts and so much more! I have also admired her dignified silences on unnecessary controversies (read Kanye Idiot). Kudos to her!
(http://www.dailymail.co.uk/femail/article-3144194/Meet-Swift-Squad-Taylor-Swift-created-loyal-girl-gang-make-powerful-beautiful-friendship-group-EVER.html)
Without doubt, I will still listen to the music she will make. However, I am no longer her ardent fan. When she took a year off from all the guys, built a squad and focused on girl power and individuality, it really did seem like a planned image makeover strategy. You know, draw away media and the fans from the ex's drama to her music and new way of life. She fooled nobody. But I thought it was commendable that she took her time to work on changing what people thought about her. It took courage to attempt something like that. So, I still liked her.
(https://www.pinterest.com/iamfearless13/bad-blood/)
I am saddened reading the recent news about her and Tom Hiddlestone though! I know it's her life and you gotta do what you gotta do. But it really is not pleasant to see all the efforts and time she took to remake her media representation all go in vain. I was thinking why even?! And to top it, I feel bad that the media calls Calvin Harris a "cry baby" for being angry with all the drama!
(http://www.glamourmagazine.co.uk/news/celebrity/2015/03/27/are-taylor-swift--calvin-harris-dating)
Let's keep Taylor and Tom aside for now. Think about Calvin. It took 15 days for his ex to move on. Why shouldnt he be angry? Let the guy pour out! For once, let the guy involved in the Taylor drama display his exasperation! Taylor has been writing songs about her ex's. Let us let Calvin grieve his relationship peacefully. So he deleted all the posts with Taylor on social media, so he wrote an angry tweet, so he deleted after a while, so what?! Why are we calling him the cry baby, why are we judging him? I mean, Taylor has dated guys who broke up with her over texts, who wrote mean songs about her, we didn't take Taylor's side then. But why are we showing contempt towards a guy who clearly needs to grieve and get over?! To be honest, he has been the best guy Taylor has been with. He took her side on so many controversies she was involved in. His last tweet about their relationship read that he had love and respect left. (I know he deleted it, but come on!). Cut this guy some slack, will ya'all?
(https://www.ministryofsound.com/magazine/2015/10/13/calvin-harris-split)
And as for Taylor,